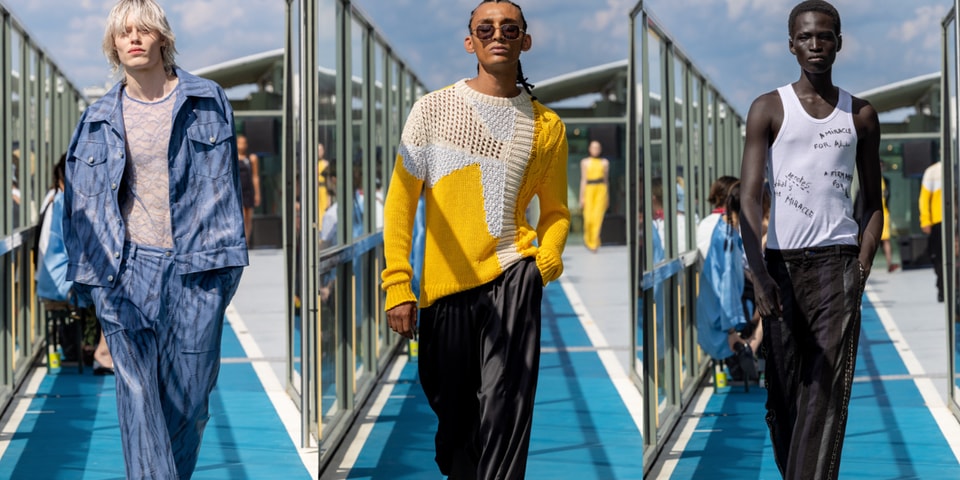 Koché's Spring/Summer 2024 collection asks, "What is a fashion wardrobe?" Governed by designer Christelle Kocher, the range effectively articulates her vision of just that: "an uninhibited, inventive fashion, whose sophistication builds bridges between popular culture and the excellence of craftsmanship."
Staged on a massive barge at the entrance to Paris, the brand's runway exhibited this wardrobe alongside views of the Seine's bans and the Parc André Citroën. Celebrating feminity, the collection centered tops embroidered with intricate geometries, hand-painted lace, muslin and georgette, among other fine textiles. Shirts and shorts boasted hand-painted quotes from prominent female artists, including Patti Smith, Virginie Despentes, Virginia Woolf and Céline Minard, while jersey silhouettes donned glittering crystals.
The collection balanced casual wares with upscale attire, reflecting the brand's versatile approach to craftsmanship and exuding a sense of ease. Jackets and tank tops, in an array of tones, met shorts in similar hues, while blazers, button-up shirts and dressy trousers filled the wardrobe's formal end. Statements, like billowing fur coats and double-take-worthy pattern-clad pants, rounded out the line. 
"Koché continually questions the place of fashion in popular culture," the collection notes read. "In an era where trends follow one another more and more quickly, fashion plays the role of time marker. Koché considers fashion not in terms of season but in terms of duration. Make everything, every garment lasts longer. An ecology of production, and this will be a major challenge in the years to come."
Take a look at Koché's Spring/Summer 2024 collection in the gallery above.
Elsewhere at Paris Fashion Week, Kim Jones unveiled Dior's Spring/Summer 2024 menswear collection.