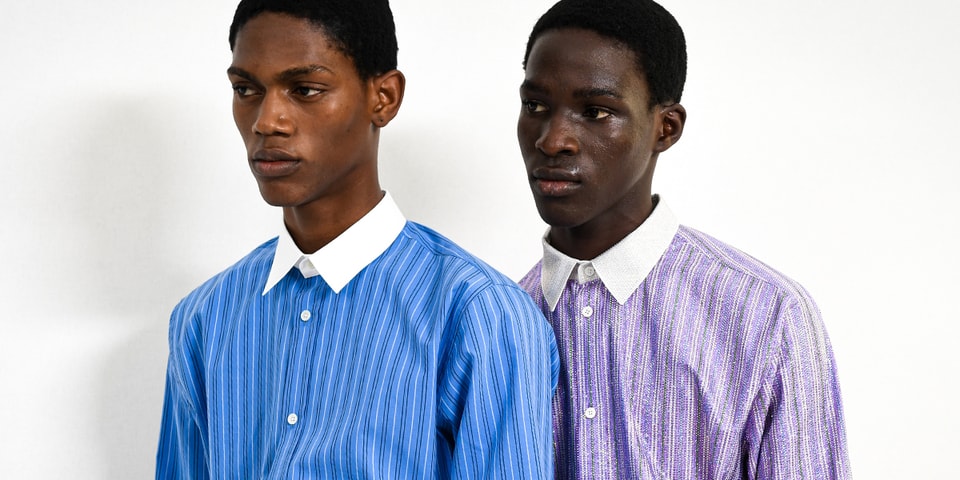 Jonthan Anderson's masterful craftsmanship and amalgamation of matte and shiny has captivated audiences at Paris Fashion Week. For Spring/Summer 2024, Loewe is for those who want to shine bright at all times.
Taking everyone's attention are the glittering pieces that opened the show. Anderson brought the sparkles to menswear, all while studying the ideals of perspective. The collection is a note on how perceptions and scales can be defined and how our points of views can shape the way we scale and perceive silhouettes. Throughout the collection, high-waisted denim jeans and compact busts were the gesture for elongation. The collection was straightforward, consisting of your typical blazers, coats, knitted polos, jeans, chinos and even argyle knits. However, the pieces dazzled with crystals across the entire surface.
The crystals were the star of the show, appearing as minute details on pin-striped dress shirts and even all-over jeans. A full pine green leather pantsuit shimmered as the model walked across the stage, hit with the sun coming through the skylight. The collection was showcased with Lynda Benglis' water-spouting sculptures as the backdrop. Full sparkly getups were shown in tandem with smooth leather jumpsuits in a color palette that included soft pastels, solid blues, khakis and black. Sandals, ballet shoes, oversized bags and round-toed Chelsea boots continued to be a part of Anderson's study on perspective.
Take a look at the collection above.
In other fashion week news, NIGO and VERDY collaborated with KENZO SS24.