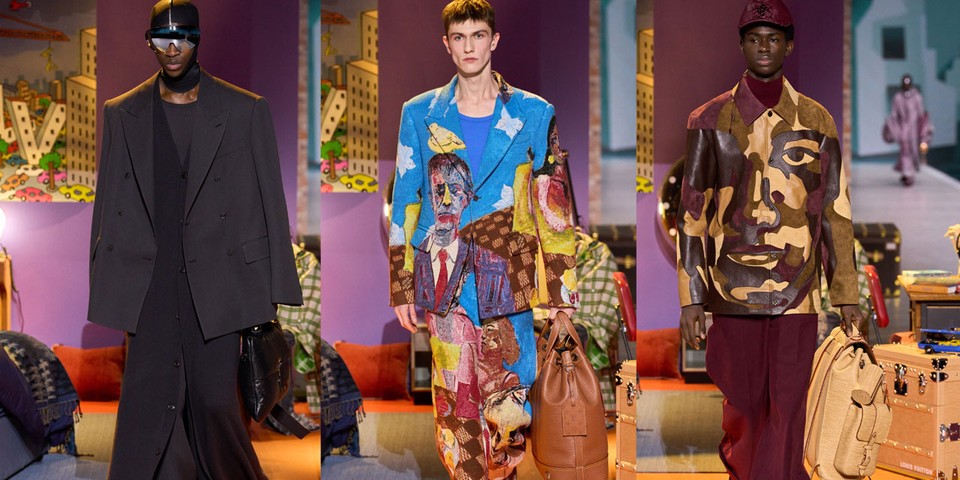 From the moment you entered into the world of Louis Vuitton, you are bound to be greeted by an exemplary story. For the Fall/Winter 2023 season, Louis Vuitton enlists KidSuper founder Colm Dillane to be the house's first designer to helm the menswear collection post-Virgil Abloh.
The show began with a surprise performance from Motomami singer Rosalia, setting the soundtrack and stage for an eclectic presentation. The set at Louis Vuitton was the beginning of a continuous story with each part of the runway broken up like rooms in a house. From the start of the runway, the set resembled that of a hospital room, while the next portion appeared to be a child's bedroom, moving onto an adolescent's bedroom to set the tone for a coming-of-age story. Highlighting the theme o growing up, the collection was and ongoing artistic dialogue that told the story of a child in which the prelude follows the boy's coming of age from infancy to the age of twenty. Louis Vuitton tells the story of men's practices at their formative development age, as well as the inner child that never seems to go away.
Designed by Louis Vuitton's in-house Prêt-à-Porter Homme team in conjunction with Dillane, the collection was an amalgamation of design cues taken from both Abloh and Dillane's use of splashy and wild colors. Dillane's touch with the flowing suits and bold patterns complemented Abloh's core elements incorporated over the years at Louis Vuitton. Eclectic suiting with an oversized aesthetic as well as refined and detailed pieces including an entire suit made of notes, see the house continue to flourish under the contemporary era. Emblazoned Louis Vuitton varsity jackets as well as exaggerated puffer jackets continue to be a staple for the FW23 collection.
Take a look above at the full Louis Vuitton FW23 collection.
In other fashion news, SOLID HOMME FW23 wants you to "Enter the Void."