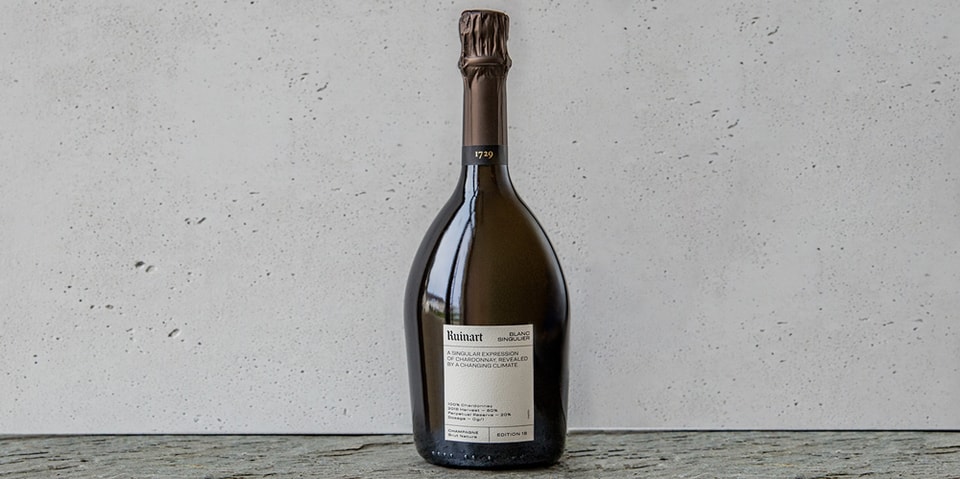 It's been around two decades since Maison Ruinart introduced a new cuvée. In Champagne terms, cuvée usually refers to the first-pressed batch, which is also the most desirable as it serves as a measure of quality. With climate change being an ongoing issue, so does the process to craft quality wine of such caliber.
This in turn, also altered the aroma and taste of these wines, as explained by the Maison on its website: "Subject to the evolution of temperatures in Champagne, to the shortening of the vine cycle and to the acceleration of maturation, Chardonnay now reveals changed aromatic profiles, more fruity, more spicy. An emergence of new profiles for chardonnays exposed to climate change which are characterized by a balance between aromatic families, a more intense expression and a strong texture characterized by roundness and power."
The resulting Blanc Singulier boasts a luminous golden-yellow hue, with a hint of green. Against the nose, it evokes a rich layer deriving from a concoction of sweet fruits, floral kicks, as well as lingering notes of aromatic herbs and plants. In terms of taste, the Champagne is fresh and direct, echoing all the layers that one can smell before taking a sip. Meanwhile, spices as well as sweet vanilla notes make up the aftertaste.
Made from 100% Chardonnay, the Blanc Singulier Edition 18 is a permanent addition to Ruinart's offerings and will be available in the US later this month. To read more about it, visit Ruinart's official website.
In other food and beverage news, Bun B opens Trill Burgers Houston location.
DISCLAIMER: We discourage irresponsible and/or underage drinking. Drink responsibly and legally.