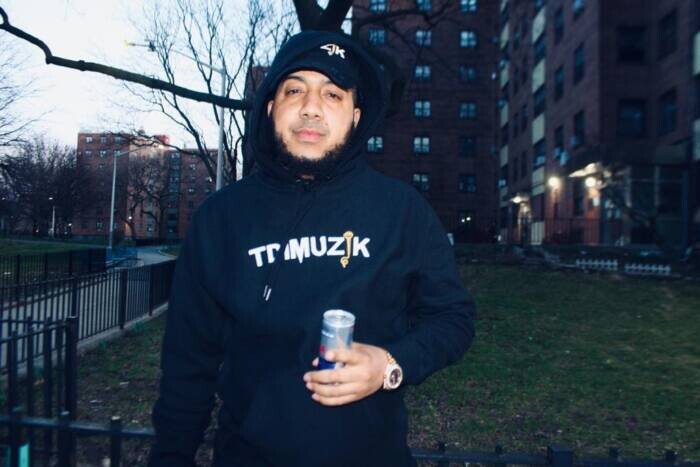 Meet TDIMUZIK! The Multi- Talented rapper and music entrepreneur from the Soundview section of the Bronx that's getting ready to debut his highly anticipated EP- H.E.N.R.Y later this spring and the industry is already buzzing over it.
In January TDIMuzik made headlines and went viral after he dropped a music video for his newest single entitled WU Muzik produced by Padrino. The single pays homage to the legendary Wu-Tang Clan with TDIMuzik laying his own lyrics on top of beats from the Wu's greatest hits. The creative concept is unique and unpredictable because as TDI switches up the beat, he continues to rhyme effortlessly to the very end while referencing the legendary members in his lyrics:
"Middle finger to ones who didn't believe us/ Saw us out there starvin not thinking to feed us/
Salute the OGs leaders and teachers/ I swear to god that boy Rza a genius/He play a mean sound/ I gotta stop for second just to hear how the beat sounds"
The single is a perfectly produced mash- up of beats from The Wu Tangs most classic's tracks- Triumph, Ice Cream, Criminology, Daytona 500 and Shadow boxing. TDI's viral single Wu Muzik may very well be one of the greatest and most daring tributes to the clan we have heard to date. Listen Below!
https://www.tdimuzik.com/music
TDIMuzik- short for TRULY DEFINED IN MUZIK is not just a rapper- he's a creator that's forever evolving his craft in order to bring his music and brand to the next level.
His name has been making noise around NYC for well over a decade for far more than just his music. TDI, who started his career as a battle rapper has an almost undefeated record (only 1 loss to date).
The streets quickly recognized his raw lyrics and his ability to freestyle off the top on the spot on any beat which earned him a reputation of being one of NYCs MOST ELITE BATTLE RAP MC's from across the 5 boroughs. He is still known till this day as one of the hardest MC's to beat in a Cypher. When asked about his most memorable battle rapping moments from his career- TDIMuzik recalls:
"In 2002, I battle rapped at Power House studio -completely spur of the moment for almost 2 hours straight against another artist-Earl Hayes while Uncle Murda and Dirty Red were in the building. The chemistry between us was insane – for 2 hours straight we battled and neither of us would back down. It was survival of the fittest. The crowd was feeding off our energy." Another legendary moment for him was when he battle rapped in front of Ruff Ryders Music Execs in NYC and left the crowd speechless. TDIMuzik also talks about how he battled at Sony Studio's- and was the last man standing while rapper Cassidy watched on.
He also talks of his infamous battles at Fight Klub where his biggest win to date was the NYC vs Philly battle. TDI says "I've battled against some of the biggest battle rappers that have ever graced the stages and who are very well respected in the streets today." With each consecutive win – The streets started to take notice and his name became well known as NYC's battle rapper that just couldn't be beat. Watch TDIMUZIK Legendary Battle Rap Moment Below
During TDI's rise to fame, he made the cross over to actor and appeared on the big screen having been cast for roles in 2 short films- 2017's Border Line Cartel and 2017's Broken Windows. TDIMuzik is just getting started with his acting career and has big plans for more roles in the future. See TDIMuzik as Nino is Episode 2 of Border Line Cartel Below!
As TDIMuzik continues to grow his brand – he decided to launch his own company TDIMuzik as a way to help develop up and coming artists by providing them with firsthand knowledge of the business side of the music industry, and by connecting them to countless resources, outlets and various media platforms to help them make a name for themselves in the world of Hip Hop TDI was inspired to give back and help rising Indi artists because as he navigated through his own music career he noticed there weren't many other artists that he himself could seek advice from and learn the business side of things from. TDI who is self -taught, provides up and coming artists with a unique opportunity to push their music to the next level. He knows that in order to make it in the music industry you have to give it your all- Blood, Sweat and Tears. "My ultimate goal is to open doors for other aspiring artists as well as to work with the younger generation on different creative projects bridging the gap between contemporary MCs.
https://www.youtube.com/channel/UCzyxJXAwaoRZLWrpCRsHVjw
TDIMuzik is currently working on his latest EP produced by Automatik, Get Large and 40 God entitled H.E.N.R.Y which stands for HUGE EARNER NOT RICH YET expected to debut this spring where he says "This EP is a bit unpredictable for me and I think the fans will be surprised. There's a little bit of everything. All little drill, I got a track with that R&B Drake type of Vibe, songs for the club that you can dance to and of course songs with that old school grimy 90's Hip Hop type vibe with that new age twist. I think the fans will be surprised. I was way more experimental with H.E.N.R.Y than my last albums. I'm the type that knows within 10 seconds whether or not I'm gonna like a beat. I'm a Perfectionist when picking my beats so you can expect nothing but heat from this EP. For me, the beat sets the vibe and once I'm inspired by it – I start to write. With H.E.N.R.Y I rap about both real life shit that I'm going through and other times it's wherever the beat decided to take me". One song we can expect to hear on his EP is his November single entitled 718 Ish that went viral. Click the Link Below to Download the Album and Listen to TDI catalog of Muzik.
https://www.tdimuzik.com/
Over the years TDIMuzik has worked with Goodz da Animal, Chilla Jones, Chris Rivers, producers like Automatik, Heatmakerz, Audi Rob, Axel Leon , Fred the Godson, Reek the Villian, Neil Staxx and has graced the stage of legendary NYC venue SOBS countless times. He has performed alongside Fred The Godson, Sagion, while Hip Hop Execs Pro Stylez, Trap Manny and Chris Gotti where in attendance. His music has also been played on some of biggest radio stations on both the East and West Coasts. He credits NYC Radio DJ Kay Slay as the first to break his Freestyle record on Hot 97. His music has been heard on Power 105 and even La Mega radio.
With the debut of his highly anticipated EP H.E.N.R.Y approaching TDIMuzik tells us he has plans to launch the summer collection of his TDIMuzik clothing line while he continues to create new music , grow his brand and inspire other artists to believe in their gift and tap into their talent as a way to reach success.
Stay up to Date with on Social Media and for all Inquiries:
YouTube: – CLICK TO SUBSCRIBE! https://www.youtube.com/user/afanoftdi/featured
Booking/Press/ Media/ Business Inquiries: [email protected]
IG: https://instagram.com/tdimuzik?igshid=xlyx6xafzbqy
Twitter: ​ https://mobile.twitter.com/tdimuzik
Facebook: https://www.facebook.com/tdimuzik/
Shop the TDIMuzik Collection https://instagram.com/tdimuzikbrand?igshid=6bqfjevd7f1p
Website& Music Link : https://www.tdimuzik.com/
Google: https://g.co/kgs/C9nboU