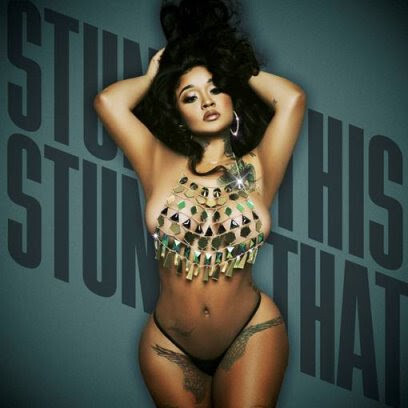 Asserting herself as an elite MC with tens of millions of streams and critical praise, buzzing Sacramento, California rapper and #RUNWAYCHALLENGE queen Stunna Girl unleashes her latest mixtape, Stunna This Stunna That, today.
Earlier this month, she set the stage for the project's arrival with the lead single and opening track "Still Smoke" which she freestyled in the studio. Reupping Axel Foley's classic theme from Beverly Hills Cop, she shreds through the REEFA produced beat with teeth bared and knockout bars on point. In addition to putting up numbers across streaming platforms, it reached #11 on Spotify's premier hip-hop playlist "Rap Caviar."
Her rapid-fire flows, head-turning bars, and endless attitude drive Stunna This Stunna That at high speed. On the project, "Ask About Me" couples an unshakable chant with punchy verses over throwback production. She lives up to the title of "Unfuckwittable" by tearing through a bass-y beat with no apologies. "No Real Bitches Left" affirms her outlier status, while the melodic conclusion "Where You Belong" illuminates her vocal range.
She capped off a breakout 2020 with "Rotation." Not only did it generate just shy of 1 million total streams and views, but it also received critical acclaim.FLAUNT Magazine raved, "Stunna Girl is the definition of a bad bitch who's ready to take over the rap game single-handedly."
She dropped a succession of bangers last year. "Runway" clocked 31 million Spotify streams and sparked the #RUNWAYCHALLENGE with nearly 4 million Tik Tok creates. "Like I Said Tho" and "Lil Boy Cash" increased her momentum, while "Rotation (Game Mix)" graced the Madden 2K21 Official Soundtrack.
Stay tuned for a lot more from Stunna Girl.