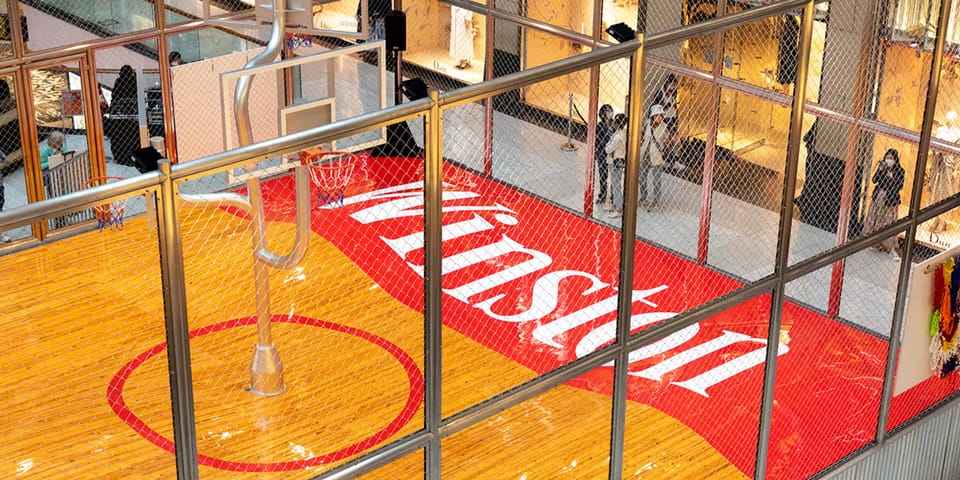 As part of Hong Kong Art Week 2023, Tyrrell Winston created Double Technical, a basketball court-themed installation in the city's Landmark Mall. Now, Double Technical's floor has been covered and parts of it will be replaced due to a warning from local health authorities.
The piece of Winston's installation that caught the eye of the Hong Kong Department of Health's Tobacco and Alchohol Control Office (TACO) was the large white "Winston" hit on one of Double Technical's borders. The graphic, borrowed from American tobacco manufacturer Winston, is representative of the artist's work merging sports and pop culture — he's heavily influenced by artists like Jeff Koons, Cy Twombly and Marcel Duchamp and often uses discarded cigarettes or cigarette boxes in his sculptural pieces — but it runs afoul of a Hong Kong law prohibiting the display of tobacco ads. Those disregarding the law can face an initial fine of up to $50,000 HKD (approximately $6,370 USD), plus a continuing penalty of $1,500 HKD (approximately $191 USD) per day for every day the offense is not remedied.
"An installation on public display at the mall was found to contain the registered trademark text of a tobacco product brand," TACO said in a press release "Related content and cigarette packaging boxes of the same brand were also found on the webpage of the mall … the relevant items were subsequently removed or covered … the venue management was also warned against further display of the tobacco advertisements at the venue and its website. The TACO is conducting follow-up investigation in respect of the breach."
Landmark Mall covered the floor of Winston's exhibition, first with a white tarp and then with a gold sheet, and its parent company Hongkong Land issued a statement that read in part "Hongkong Land did not intend to promote or support the use of tobacco in any way and has taken prompt remedial action by speaking with the artist about adjusting his art installation design at the LANDMARK ATRIUM … We have also removed any imagery of the original art installation from our social media channels and website."
Double Technical will reopen soon, with its floor graphic "completely replaced [by] another design."
For more art news, check out YOSHIROTTEN's forthcoming SUN exhibition.