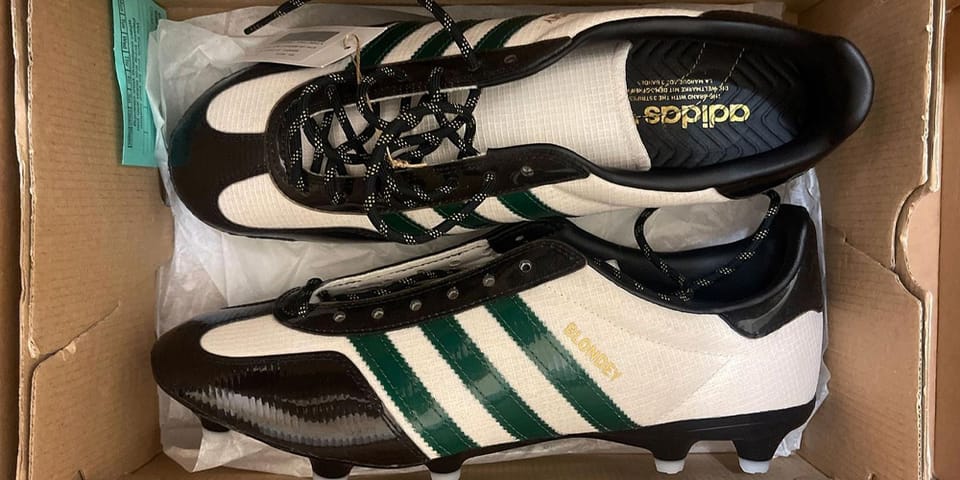 After introducing the adidas A.B. Gazelle Indoor sneaker last year in a black tonal colorway, Blondey McCoy now teases the adidas Skateboarding silhouette in a new colorway. Pictured above is a pair of custom cleats integrating the uppers of the upcoming sneaker.
"Mine might be the last generation of skateboarders to whom football felt off-limits," writes Blondey. "And when I say off-limits, I mean like the polar opposite, along with just about everything else deemed properly popular. It seemed to me that if you skated, that was all you did. That and make art, maybe. Anyway, this, I suppose, is why I think skaters wearing the type of gear that typically belongs to the masses can be, ironically, so interesting. Empowering even."
The actual release is expected to arrive in a similar colorway of black, white, and green with striped laces and gold "BLONDEY" branding along the lateral stripes. The bottoms, however, will feature treaded rubber soles designed for both football and skateboarding. Blondey reveals what inspired him to create a shoe for both the field and asphalt in the caption.
"This position of mine is evidenced in my career at adidas, and indeed by the very fact that it's adidas I sought a career with — as opposed to, say, Vans," he continues. "First, we made basketball shoes together. Then came indoor football shoes. And it's the imminent release of the third and final official version of these that's prompted this post."
Take a closer look at the one-off customs above and expect more details on the new Blondey x adidas A.B. Gazelle Indoor collaboration to arrive in the coming weeks. More information on the original Gazelle collab can be found here.
Elsewhere in footwear, the Nike Air Force 1 "Four Horsemen" receives a release date.