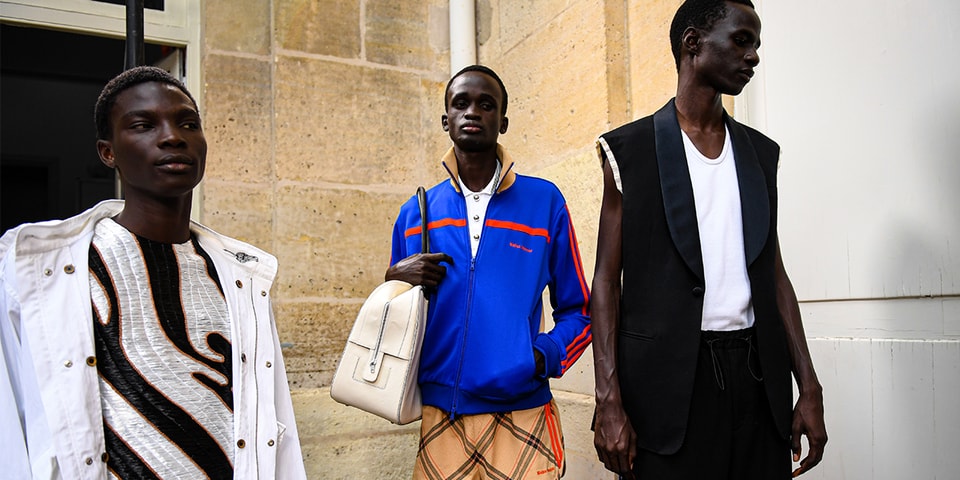 London-based Central Saint Martins alumni Grace Wales Bonner, and her eponymous label Wales Bonner, is a mainstay of Paris Fashion Week. It's quite an unmissable occasion, as evidenced by Spring/Summer 2024's crowd. Lewis Hamilton, Tyler, the Creator, and Samuel Ross were all in attendance, there to support one of Britain's finest designers, collaborators, and cultural thinkers.
Wales Bonner SS24 is titled "Marathon." Thus, it feels fitting that much of the collection centered around the continuation of its collaboration with adidas. However, there's more to it than that. It was a "reflection of a long-distance runner: the silent messenger, the unwavering spirit striding, soaring." Notably, it called upon legendary athletes: Haile Gebreselassie, Genzebe Dibaba, and Eliud Kipchoge, with the former finding their name signed onto a collaborative pair of adidas Neftenga sneakers alongside their world-record-breaking time.
Like a marathon, this show was all about pace. One look after the next, Wales Bonner proved to us why she's worth her weight in Olympic gold. Studs and beads delicately dressed collars and seams on jackets, while larger metal beads pressed against cheetah print cowhide vests, contrasted (or perhaps complemented) by silver running shorts.
Wales Bonner's trick was in its ability to conflict and please at the same time — one look would be a suit, sporting conceals fastening and a popped collar, the next, a technical black boiler suit equipped with a satin cummerbund. Shearling-lined UGG loafers contrasted the designer's in-house Himco footwear, which was silver and sporty in nature. Checkered capes paired with leggings; Wales Bonner-branded adidas side bags in rich leathers and contrasting holdalls added sophistication to a collection that also included a blue tracksuit; and even when it came to the collaboration with adidas, there was a twist.
For example, the designer created a macintosh coat that featured adidas' Trefoil logo on the outside, and a checkered print inside, and a metallic silver track jacket was given sarotial elegance thanks to the waist band that, again, presented as a cummerbund — also decorated with a gold Trefoil.
This was a strong collection, one that you'd refer to as a wardrobe. From tailoring to the track, Wales Bonner SS24 had it all.
Take a look at the collection in Hypebeast's behind-the-scenes photoshoot above, and find more Paris Fashion Week SS24 content across Hypebeast.
Elsewhere, check out BLUEMARBLE's star-studded SS24 show.