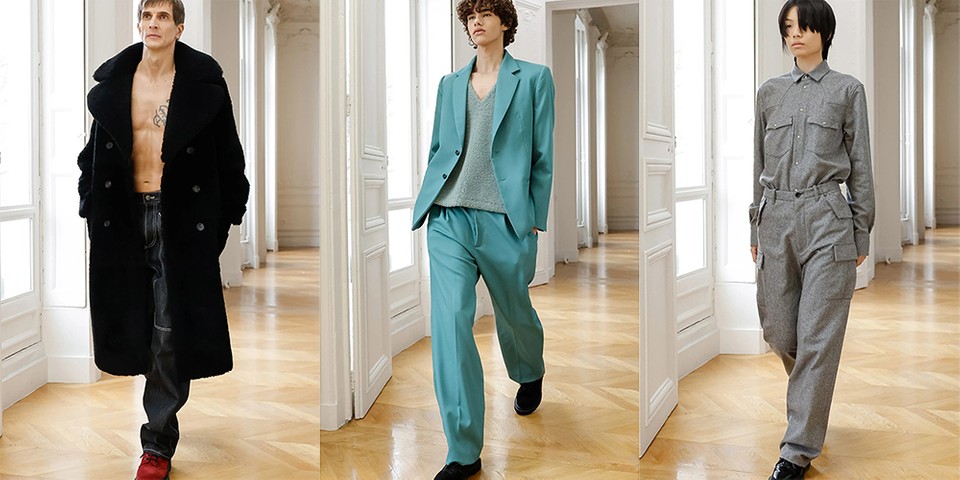 Crowned as one of Hypebeast's Best Emerging Menswear Brands of 2022, WINNIE New York has now taken to Paris Fashion Week to present its class of menswear for Fall/Winter 2023. Founded in 2018 by Idris Balogun following stints on Savile Row in London, as well as at Burberry and Tom Ford, the designer has honed his craft of refinement, not focusing necessarily on silhouettes (albeit, they are spot on), but rather a catalog of work that's simply timeless.
WINNIE New York FW23 is a wardrobe, a collection that anyone can run and grab if ever in need of a foolproof ensemble. Do you want workwear? Tailoring? Easy or formal? Something in between or that can be mixed-and-matched? Look no further.
We find traditional fabrics enhanced by modern tropes, as Herringbone tweed is woven into a baseball jacket. A button-up shirt is cut with slack shoulders and sports pockets turned on their sides, much like you'd find on a Dickies jacket, for example. The concealed fastening on a leather jacket cleans up the quintessentially tough appearance of this staple item, while suit trousers are served in gray but sport a curved section of fabric that wraps around the leg, shifting the dimensions and darting the eye over and around to create a sense of drama.
Simply put, while the pieces are classic, there's a consistent twist. It's this that makes Balogun's label loved among the Our Legacy, Acne Studios, Lemaire-wearing crowd, who are always looking for trustworthy numbers that aren't boring.
It's a brand not afraid to have fun, too, as a shirt is worn with bare collar bones (as a nod to a trend this season), and cuffs are rolled high, making them puffy and feminine. A traditional flannel check shirt is subverted with the '70s spread collar and a diagonal movement, serving a luxury take on the American staple, and cargo pants are tailored for a look that can take you from the office to the streets in one step.
WINNIE New York's FW23 collection can be seen in the gallery above. You can find more Paris Fashion Week FW23 content here.
In other news, here's Hypebeast's take on Casablanca FW23.